New Tires for Sale near Merced, CA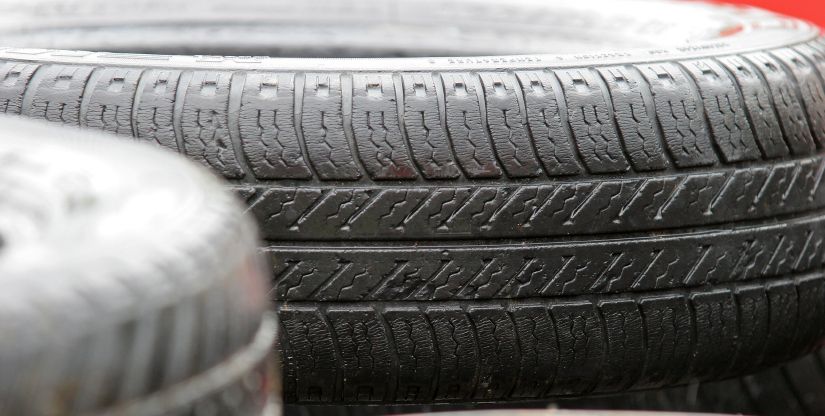 When you are looking for a dependable garage to take care of your vehicle, stop by our Service Department at Modesto Toyota! We offer more than just impressive new and used cars, as our mechanics are properly trained to take care of all mechanical issues and handle vehicle upkeep. See us as soon as today for our wide selection of new tires!
It's typically recommended that your tires get replaced about every eight years, however the conditions in which you experience during your daily drives and how often you traverse the road can depend on how quickly your rubbers wear. Your tires play an essential role when it comes to keeping you safe during your commutes down Santa Fe Drive, as they provide you with the traction and support you need to properly grip the pavement. We are more than happy to quickly check the condition of your rubbers for you, however you can do this at home if you'd like. Simply take a penny and place it within a tire block upside down. If you see more than half of Lincoln's head, this means your tires' tread levels are too low and you need to replace them. However, it's important to check each one, as the front set tends to experience more wear-and-tear than the rear pair.
Our technicians can lead you toward the right brand and type of tires that will suit your make and model perfectly once you come in for a new set of rubbers. We'll then install them with precision and care, and you'll be out of our garage before you know it. Feel free to use our Ask a Tech form to reach our Service Department at any time. All it requires is your contact information, the make, model, and year of your vehicle, and, of course, your inquiry. You'll soon hear back from one of our mechanics with a detailed answer.
We understand that vehicle upkeep is expensive, especially when it's time to replace your entire set of tires, which is why we constantly update our service and parts specials. Our garage is open six days a week with early morning and evening hours, so it's easy for you to schedule an appointment for maintenance. We offer loaner cars and shuttle service if you need a lift. Our waiting room is furnished with comfortable seating and free Wi-Fi, and we also offer complementary coffee if you decide to stay here while we work on your car.
See us at Modesto Toyota for our new ties for sale near Merced, CA! You can count on our service technicians to get the job done right the first time. Find us at 4513 McHenry Ave. in Modesto, CA, as soon as today during our flexible hours!
Testimonials
Ton on my "to do" list
December 1, 2016
Great Service Department
November 28, 2016
Top Notch
October 8, 2016
A truly remarkable & genuine individual
October 5, 2016
Always Great!
October 2, 2016
Awesome Service!!
September 20, 2016
See you soon!
September 15, 2016
Head off to college!
July 8, 2016
Toyota family for years it's all we choose to drive
San Diego, CA
June 16, 2016
3 hour run-around at CV Nissan
Sacramento, CA
June 16, 2016
Stranded on the side of the road
Tracy, CA
June 16, 2016
As someone who is well informed about cars
Madera, CA
June 16, 2016
My car buying dreams came true!
Turlock, CA
June 16, 2016
In the market for a new car
Ceres, CA
June 16, 2016
I want to say I LOVE!!!!!Toyota
Modesto, CA
June 16, 2016
Buying a new car can be stressful
Stockton, CA
June 16, 2016
Owner is very personable!
Portola, CA
June 16, 2016
Aces! Great customer service! They are amazing.
June 13, 2016
Best for buying and getting your car services
June 8, 2016
Read More
Service Hours
209-529-2933
| | |
| --- | --- |
| Monday | 7:00 am - 6:00 pm |
| Tuesday | 7:00 am - 6:00 pm |
| Wednesday | 7:00 am - 6:00 pm |
| Thursday | 7:00 am - 6:00 pm |
| Friday | 7:00 am - 6:00 pm |
| Saturday | 7:00 am - 6:00 pm |
| Sunday | Closed |