Perfect Attendance Drive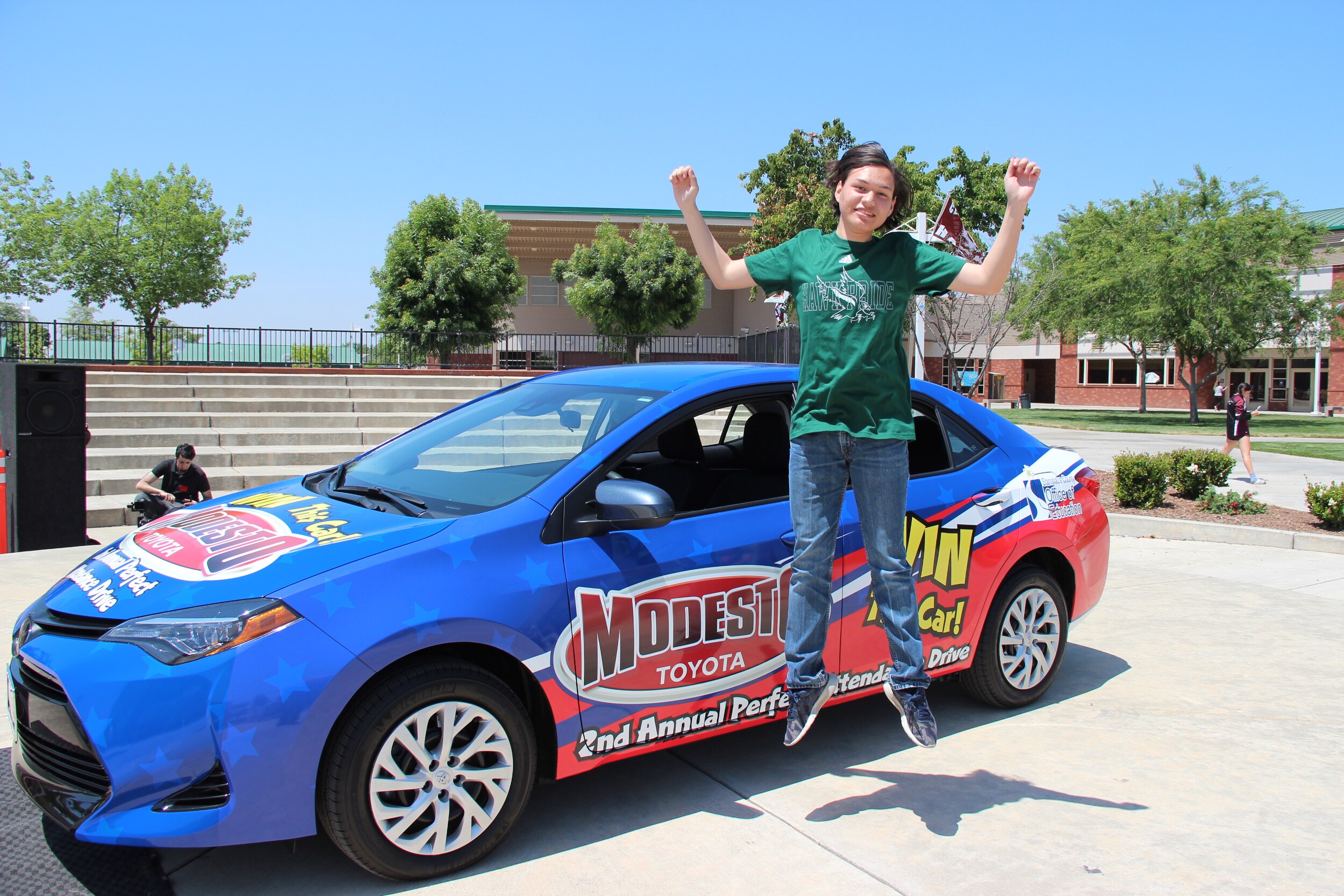 Central Valley Student Wins New Car
By Cynthia Fenech
Attending school every day can pay off. Just ask Moises Gonzalez, a 16 year-old student at Central Valley High School in Ceres, who won a new Toyota Corolla for having outstanding attendance during the 2018-19 school year. He was handed keys to the new car on May 10, courtesy of Modesto Toyota. Gonzalez was among 50 students who made it to the final round of the attendance contest for high school students in Stanislaus County.
"When my name was called, I was so surprised and excited," said Gonzalez. "I currently walk to school every day, and after I get my license, I'll be able to drive to school, help my mom out by taking her to the store, and go other places."The win will make a huge difference for Gonzalez's family, which doesn't own a vehicle. "I'll use the car to continue to get to school, and then I'll use it to go to college," said the grateful student, who plans to study computer programming.Gonzalez said he was motivated to come to school every day by a desire to further his education and be a help to his mom, who was on hand for the big moment. "She was very happy, and so overjoyed she started to cry," he said.In addition to winning the 2019 Toyota Corolla, Gonzalez received a year of insurance paid by TSM Insurance, 24 car wash passes from Mister Car Wash (formerly Prime Shine), and 12 $100 gift cards from Boyett Petroleum."Our office was once again honored to partner with Modesto Toyota on this attendance drive," said Scott Kuykendall, Stanislaus County Superintendent of Schools. "This is a fun incentive to encourage high school students to attend school on a daily basis, and we'd like to thank the many sponsors for their generous donations."     "We know that education is a key component for any community, and we were happy to once again partner with the Stanislaus County Office of Education to promote the importance of school attendance," said Kevin Stinson, general manager and vice president of Modesto Toyota. "The first part of success in school is just showing up. If we can get more students to attend school every day because of the possibility of winning a new Toyota, we have found a strong motivator to help them succeed."   More than 33,300 public high school students in Stanislaus County had the opportunity to win the car. In May, school districts submitted the names of their local winners. SCOE recognized 50 finalists at a special event held at Modesto Toyota on May 9, and each received a certificate and family four-pack of tickets to Six Flags Discovery Kingdom. The winner of the car was drawn randomly from these finalists."We were all excited to hear the news that the winning student was one of our own," said Central Valley High School Assistant Principal Rogelio Adame. "We couldn't help but think of how life-changing an opportunity like this could be for an adult, and even more so for a student. Our attendance rate increased slightly this year due to multiple factors, including this incentive drive. This event has caused quite a buzz on campus, and I know that moving forward students will make an effort to come to school and be on time more often."
Source: Shanislaus Magazine (July/August 2019) - Stanmag.com
ANOTHER NEW TOYOTA COROLLA WILL BE AWARDED AT THE END OF THE 2019-20 SCHOOL YEAR...STAY TUNED!